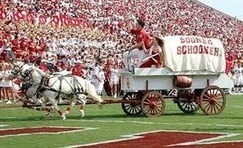 Seems like every year that passes, I enjoy football more and more. Which explains why I actually enjoyed OU's spring game Saturday.  Live football is hard to beat, even if you can't hit the quarterback or have a scoreboard that means something.
So here are my thoughts on the Sooners from Saturday. I'll stick to offense in this blog, then hit you with defense later.
– On the scrimmage's first 13 snaps, the Sooners put the ball in the hands of three Treys – Millard, Franks and Metoyer. I wonder if the nature of their first names precludes the Sooners from adding any more Treys.
– Metoyer is a star in the making. I'm ready to proclaim him the Sooners' best receiver right now, even before he sees his firstOklahoma August.
Read more…