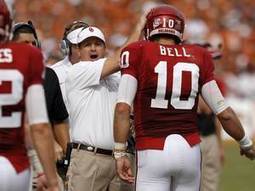 Sooner4OU Commentary:  As tough as it may be, I will be rooting for OSU tonight after OU wins in Ames, Iowa.  We need an OSU win to keep the current Sooner Squad focused and engage on something to play for…the Big12 Championship and an automatic berth into a BCS bowl.  Boomer!
Article Excerpt: Bob Stoops has been grousing about late-night kickoff times for his Sooners. Well, Saturday, he should be pleased. OU plays at 11 a.m. at Jack Trice Stadium, and barring flight delays, 17 overtimes or an Iowa State upset, the Sooners can be back home before sundown, adorned with orange pom-poms.
That's right. OU must turn cheerleader in this month of November. Cheerleader and scoreboard watcher. Lighting a candle or two wouldn't hurt, either, as the Sooners try to coax victory out of whoever is playing Kansas State.
With Big Bowl hopes gone, the Sooners now chase a Big 12 Championship, which can only come if Bill Snyder's Purple People Eaters lose twice. Saturday night against OSU would be a good place to start.
"Maybe someone will help us," said OU center
See on newsok.com