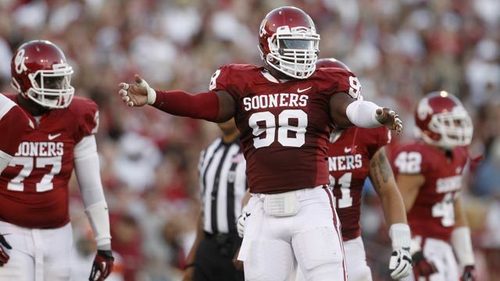 Sooner4OU Commentary: The Sooners are number 20 in total defense in the NCAA and I hope this article is right and OU's defense brings it on Saturday night and becomes part of the highlight reel for a big Sooner victory.  Boomer!
Article Excerpt: A year ago, Oklahoma finished No. 55 in total defense and No. 31 in scoring defense.
The Sooners went 10-3 and the defensive numbers weren't embarrassing for a product of the Big 12 Conference.
Yet the Sooners lost three conference games and gave up 41, 44 and 45 points. Oklahoma had only given up 40 points or more four times after allowing 48 to West Virginia in the 2008 Fiesta Bowl.
"Last year, we were much better than the way we played, but there were just a lot of mental errors," Sooners senior cornerback Demontre Hurst said. "It all comes down to getting together as a team and focusing on an attitude before the game, because we don't want to play like we did last year."
Attitude is an interesting word because even with the recruiting classes and the big bodies and athletic players across the field, opponents marvel at the assertiveness with which the Sooners play.
See on www.dailymail.com   Photo: Luke McConnell, News9.com