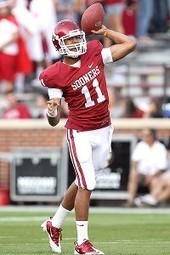 Listening to Bob Stoops and the other coaches during the bowl practivce leading up to the Cotton Bowl, they praised Kendal's ability and escapability, yet as we approach spring practices, he remains a serious underdog to win the quarterback battle.  It will be interesting to see how the coaches choose between the three strong candidates as this battle may well define how the Sooners do next fall.
While Thompson remains the underdog in this Spring's battle for the starting quarterback position, he does have the tools to succeed. But he must bring all his skills and capabilities to bear to win out over experienced Blake Bell and popular trevor Knight this spring.
How do you think Kendal will do against the competition this spring?
See on espn.go.com    Photo: ESPN