Monthly Archives:
November 2012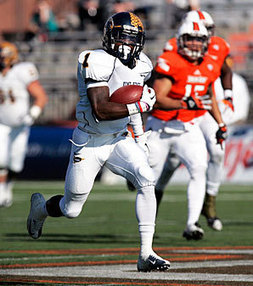 Sooner4OU Commentary:  The entire Sooner Nation needs to be big Northern Illinois supporters this weekend.  Northern Illinois must beat Kent State to ensure that OU's get an At-Large bid to the BCS if they beat TCU this weekend.  The new Non-quailfier rules are in full affect and could be damaging to OU's efforts.  There are other ways for OU to get in the BCS mix, but this is the most likely.  Go Huskies (Northern Illinois that is)!  Boomer!
Article Excerpt: Oklahoma appears headed for a BCS at-large bid, most likely a trip to the Sugar Bowl. While it hasn't been a perfect season in Norman, the Sooners have a 9-2 record with losses to Kansas State and Notre Dame, two top-10 teams. They blew out Texas in the Red River Rivalry. Moreover, they will survive the Big 12 with a single conference loss if they can beat TCU on Saturday. There are four at-large slots available for teams that did not win their conference, and OU will line up fourth behind Notre Dame, Florida and Oregon should Kansas St. win the Big 12 on Saturday with a win over Texas.
But Oklahoma could lose its BCS bid to Kent State.
See on sportsillustrated.cnn.com