OU's Bob Stoops Still Defensive About Landry Jones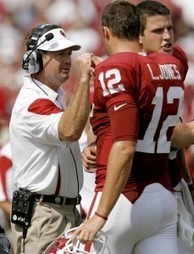 Bob Stoops still has touchy moments about Landry Jones. Still doesn't like to hear about his quarterback getting the short straw in public opinion or media coverage or anything else.
Last week, sitting around with a group of writers talking about the spring game format, Stoops talked about the absurdity of producing some kind of scoring system, and he piggy-backed that with the possible use of the Belldozer.
Read more…