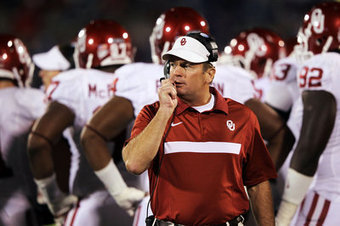 Here is a detailed preview of the Oklahoma Sooners' return to South Bend this fall from an Irish perspective.  They provide a detailed preview of the Sooners in all phases of the game.  It covers offense, defense, special teams and prediction for the game.  They seem to think that Notre Dame will win the game even though their starting quarterback Goulson has been suspended for this season.  They put a little to much into the star-rating of the Sooner recruits as Sam Bradford and others have shown being a three-star is really not indicative of their real potential, as Bradford was a five-star plus during his Junior and Senior years in Norman.  It is highly likely that several of the current three-stars on the Sooner roster will become much better under the Stoops brothers tutelage.
Also, I think they are a little optimistic about the Notre Dame;s chances and do not understand that we have numerous other players with playing time, even if they were not starters.  They are also a little pessimistic as to the potential of our secondary, as the Sooners will actually have more speed in the defensive backfield than they have had in several seasons.  There is a lot of potential defensively.  The only real concern is the defensive line as they will attempt to use some players that have yet to show they can be big time division one players.  Along with the new schemes, if they can fill the defensive tackle gaps, the Sooners may have strong defensive presence.
Overall, their Sooner write-up is long and very-detailed and every Sooner fan should read it, as it provides a outside looking in view of the Sooners and their potential this season.
See on www.onefootdown.com